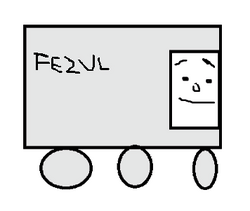 Fezul
Wheel configuration: 0-3-0
Color: Gray
Voiced by: UnknownThomasFan1
Fezul is Dezul's retarded brother. Dezul is incredibly annoyed by his retard antics, and thinks he probably should've been aborted. But despite this, he is still glad his brother is who he is, rather than being Toben.
Appearances
Trivia
Fezul is a recolor of Dezul. (you'd never figure dat out, n00b.)
Despite his brother being his enemy, Tim enjoys killing cats with Fezul.