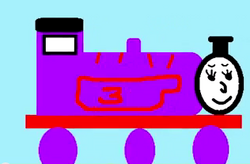 Emily
Wheel configuration: 0-3-0
Color: Pink
Voiced by: UnknownThomasFan1
Emily is an Italian E2 injin that had an affair with Dezul. She is the mother of Jared.
Appearances
Trivia
Emily is simply Tomas recolored, and drawn with a different face.
Despite her name, Emily is the first injin not to be a parody of a character from Thomas & Friends.