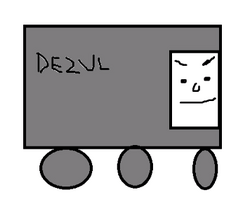 Dezul
Wheel configuration: 0-3-0
Color: White/Gray/Black
Voiced by: UnknownThomasFan1
Dezul is an injin that lives on The Land Surrounded By Water. He is the main karaktar of the show.
Appearances
Trivia
Dezul is known to change colors every season - usually always reverting back to gray in the following episode.
He has a brother named Fezul.
Dezul is a parody of Devious Diesel.
Dezul's backside has Property of Queen Productions written on it.
Gallery